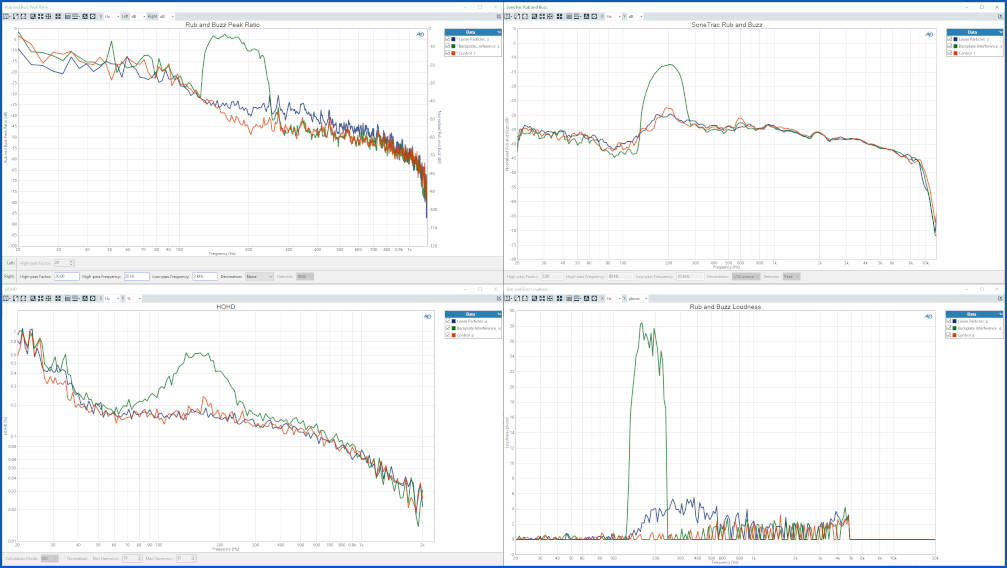 "Most importantly for the designers and manufacturers of speaker drivers, and products incorporating them, APx software now offers the broadest set of methodologies available for detecting rub and buzz defects," according to the company, explaining: "Rub and buzz is a term commonly used to describe any one of several possible manufacturing defects that cause undesirable noises to be emitted during speaker operation."
Rub-related noises occur when the speaker cone is off centre or canted, causing moving parts to rub against static parts. Buzz is due to loose particles – chips off the magnet or bits of glue – trapped in the speaker's gaps. Another fault detected is air leaks – commonly perforations in the speaker surround, unsealed dust caps or gaps in the housing.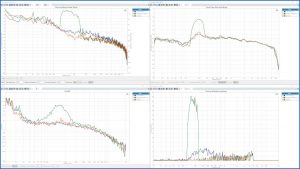 Rub and buzz (upper left)   SoneTrac (right)
High-order harmonic distortion (lower left)   Rub and buzz loudness (right)
"As an audible defect in a speaker or device incorporating a speaker, rub and buzz presents several challenges to device manufacturers," said Audio Precision. "First off, it is a subjective issue, with little broad-based agreement on how much is too much. Compounding the issue is the level of distortion in a typical speaker is far greater, and more diverse than in a typical electronic device, and can mask these defects. This latter point means the standard audio measurements of frequency response and distortion will only detect the most severe cases of rub and buzz."
To counter lack of standardisation, v6.1 includes a number of rub and buzz detection options for users to pick from.
Rub & Buzz – included in earlier APx software – using high-pass tracking filters to remove the fundamental signal and detect defects as excursions in the residual waveform's crest factor or peak ratio
SoneTrac, a A Bose-developed technique to reduce the noisiness of the result by filtering the residual signal and taking its ratio to the RMS of the total signal
HOHD (high-order harmonic distortion) using the THD (total harmonic distortion) ratio, but only of harmonics above the 10th, 10-35, 20-200, … "which is a simple way to account for frequency masking effects" said the company.
Rub & Buzz Loudness – which applies a psycho-acoustic loudness model to the residual signal to calculate the perceived level of the rub and buzz based on established models of the human perception of sound
To support the addition of the HOHD and Rub & Buzz Loudness, 'Fast Sweep signal' has been added. This is "an extremely fast stepped frequency sweep with no input or output ranging between steps, continuous transition between steps to minimise transient effects, and has a total sweep time that rivals the speed of a logarithmically-swept sine [chirp] signal", said the company, which claims advantages including: lack of transient ripples at low or high frequencies, the ability to sweep from low-to-high or high-to-low frequency, support for measuring harmonics above the 20th, and precise control of the number of discrete points used in measurements.
"While version 6.1 is officially a minor release, and thus a free upgrade to any analyser licensed for version 6.0, it delivers significant new capabilities, especially for those involved in the design, manufacture, and test of speaker drivers and any product incorporating them," said Audio Precision general manager Daniel Knighten. "APx audio measurement software now offers the broadest set of rub and  buzz defect detection methodologies available."
On top of the rub and buzz features, v6.1 now allows users to switch between IEC and IEEE THD calculation modes for harmonic distortion results, and includes the ability to normalize harmonic distortion results.
Users can also save all acquired waveforms, impulse responses or cross-correlations to .wav files, and this function can be included as a sequence step in automated measurements.
Release 6.1 is compatible with all analysers in the APx500 Series
For licencing and upgrade options, see the |Audio Precision website.