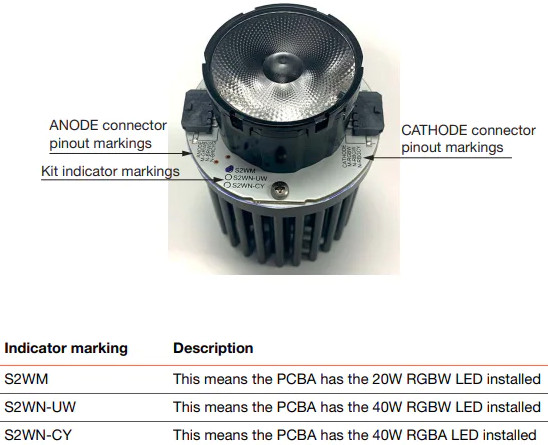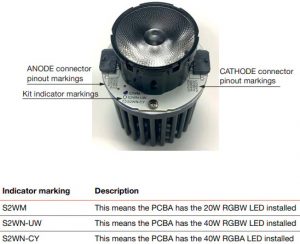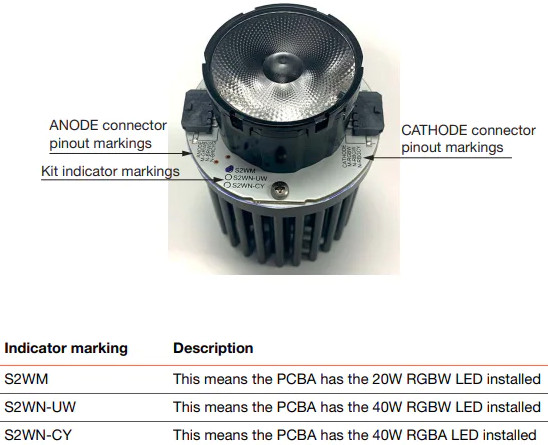 Stage leds have four die under a flat glass window in a 4.5 x 5.7mm package. The die are either all white, or combine deep blue (439 – 461nm), red (612 – 630nm) and 'true' green (513 – 545nm) with either a (converted) yellow or a white die.
The demonstrator is the Ostar Stage evaluation kit, which provides the led on a PCB, a heatsink, a wiring harness and a Gaggione 45mm LLC59C optic – which is made from PMMA and has light mixing characteristics. All anodes are bought out to one four-way connector, all cathodes to another.
"The kit is designed so that a user can connect their driver board or power supply directly to the individual anode and cathode of different colour die within the Stage led. This enables the possibility to independently control the four different colour die of the led," said Osram. "The heat sink and PCB technology used in these kits allow the leds to be driven near their rated peak forward current values."
According to Gaggione: "This range of lenses is based on our knowledge in stage lighting applications, the design of colour mixing optics has been part of Gaggione's DNA for years."
LLC59C is a narrow beam collimator range that can mix different points on a 2 x 2mm emissive surface into a beam under 10° FWHM (<±5°) – for colour mixing or variable white point use.
Mouser link for Stage eval kit (Gaggione pointed Electronics Weekly at a Mouser link)
Image is from Mouser website